Projects and Programs
[Picture Missing] 
 Our local Dade City/San Antonio Relay for Life is held the last 6 years in the spring around the Dade City Historic Courthouse. Our club participates by helping to raise funds for the local community for those cancer patients who are in need of rides to their appointment (Road to Recovery), the Hope Lodge, wigs, learning how to apply make-up when one looses all there facial hair (Look Good Feel Good program), and for the caregivers.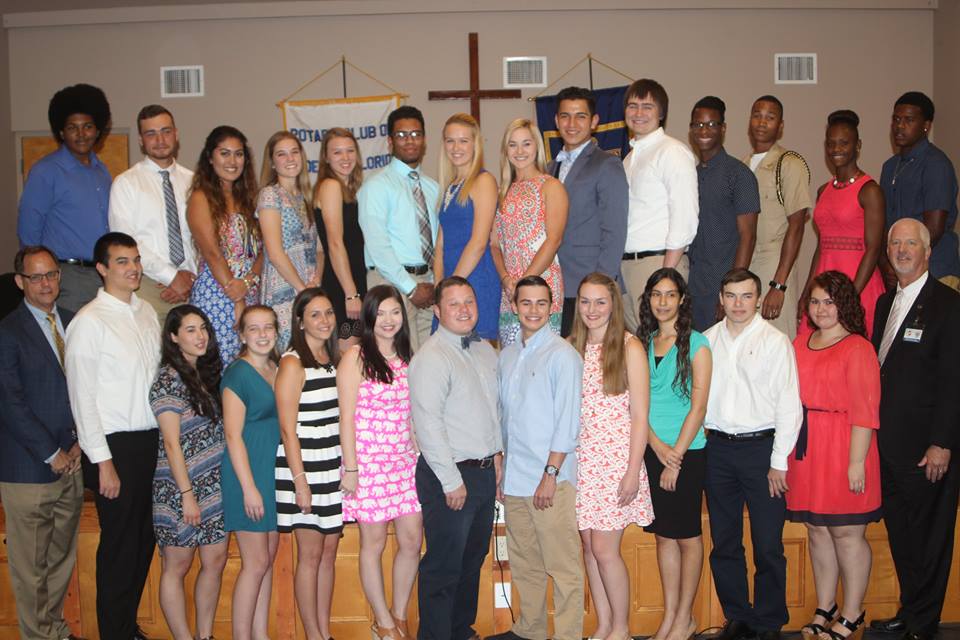 For more than 30 years the Dade City Rotary Club has honored students from Pasco High School in their outstanding work they do. We provide a banquet with dinner for them and their families and present each child with an award of excellence.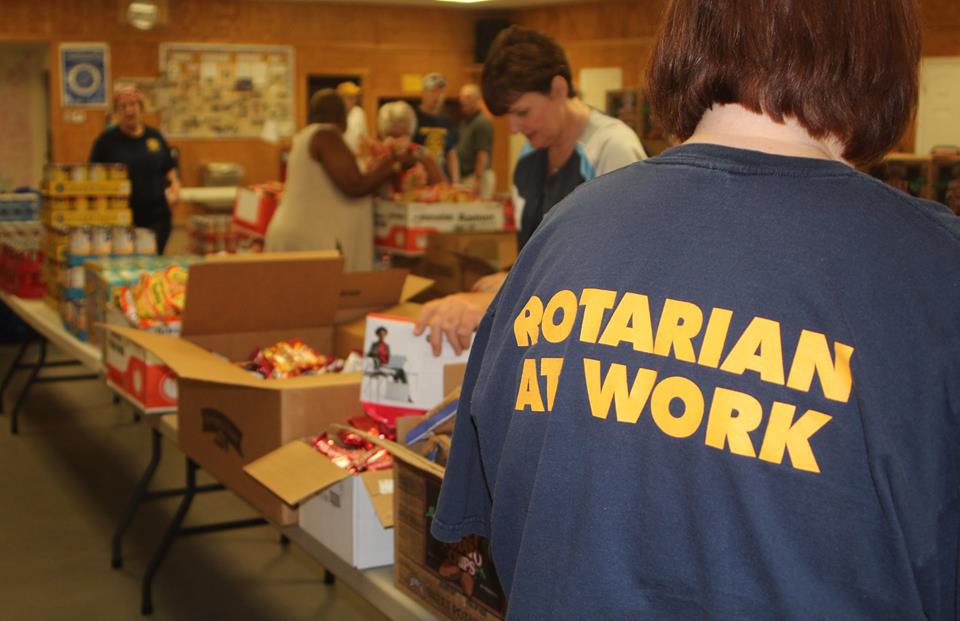 East Pasco Rotary Clubs come together each year to fill over 1000 bags of food for our local school kids in need. 
The Rotary Club of Dade City is placing "Service Above Self" during our lunch meeting in the week of Thanksgiving 2016. We are giving back to those in need; we packed up $1000 worth of baby items along with toiletry items to help those right here in Dade City through a wonderful organization called Eckerd Raising Hope. 
There is such a demand for items for children who enter foster care. With just the clothes on their backs, they seldom have even a toothbrush and often carry the belongings they have in a garbage bag. There are other ways you can help through Volunteering, Organizing a Drive or Donating either giving items or by monetary donation. If you like to learn more please visit http://www.eckerd.org/get-involved/donate/raising-hope/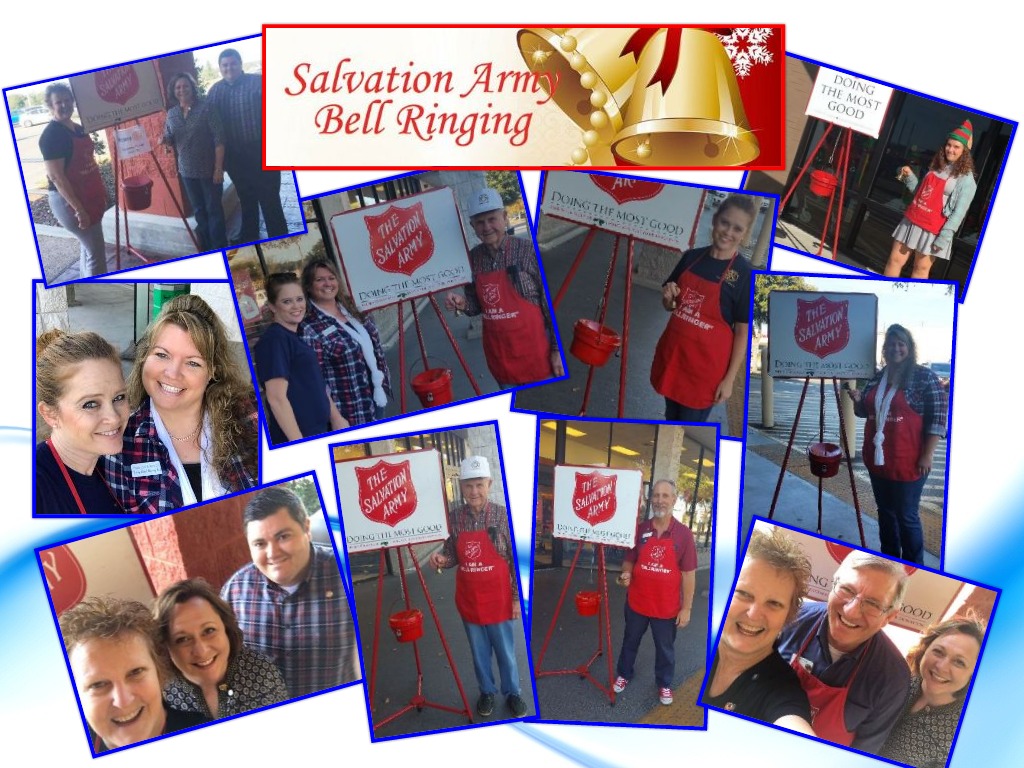 The Rotary Club of Dade City has been ringing the bell for Salvation Army for several years, last December on the 15th we rang the bell at one of these locations.... Dade City Walmart, Dade City Publix and Winn-Dixie from 9am to 5pm. Rotarian Dan Johnson, our chiairman for this fundraiser, always takes the time to show a few of our new members on how to ring the bell properly. Salvation Army provides a great service not only to our communty but to our surrounding communties.  
Dade City Rotary Club presented to Chief Ray Velboom and the City of Dade City a check of $10k for the replacement of a Police Dog. Our Club also provided a new bullet proof vest to the Pasco County Sheriffs Office Police Dog. (Picture on Right)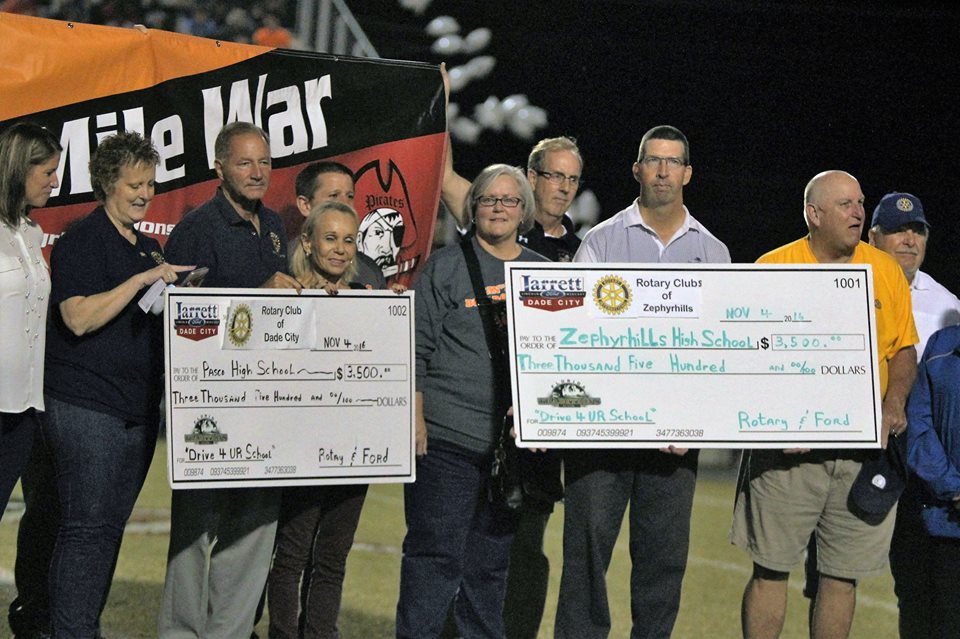 East Pasco Rotary Clubs combined with Jarrett Ford to raise over $12,000 for Zephyrhills and Pasco High School projects in October 2016 as part of the annual 9 Mile (Football) War the following Friday. Ford Motor Company donated $20 to the high school of the driver's choice for each car test driven. Rotarians helped register test drivers and accompany them on their drive. Rotary Clubs also donated additional funds from their charity funds. Thanks to all who participated and contributed their time and energy.